Our outdoor cushion covers have literally deteriorated over the years.  With the Florida sun baking on them, even outdoor fabric struggles to survive.
I've  been wanting to replace these outdoor cushions, or recover them, for quite some time, but replacement cushions are quite pricey (could probably just buy 2 new chairs for the cost) and outdoor fabric isn't exactly cheap either.  I figured this might be a good time to try out using a drop cloth as my fabric considering its durability and low cost.
I measured and decided this one cloth would be enough to cover both sets of chair cushions, we picked it up at lowes for $21.98.
The first thing I did was pop the cloth in the wash to soften it up, having not worked with drop clothes before (for fabric purposes), I must say I was quite impressed with the quality of fabric when it came out of the dryer.  The color is pretty great too, a very natural  creamy beige.  I laid out the fabric to start my cutting and the first thing I noticed was a large seam down the middle.  I used this seam to my complete advantage as you'll see further down.
Unfortunately, I am without a sewing machine (not that I would know what to do with one even if I did have it) so I used good ol' fashioned safety pins to wrap my cushions and secure the fabric.
I wrapped all the cushions like presents, keeping in mind what sides would be exposed.  For the bottom cushions I had all my ugly folds, etc gather on the bottoms, and for the 2 back cushions I made it so the gathering happened on the very bottom edge so when the back side showed through my couch, pins weren't exposed.
Remember when I mentioned those seams, well, I lined them up on the front of my bottom cushion which gave the impression I sewed the pieces together, this gave an incredible finishing "seam" to the cushion.
I took some left over scraps and ironed them over the safety pins using iron adhesive just to cover the unsightly pins.  The scraps were far from perfect, but again, it was the side no one will ever see anyway.
As much as I loved the final product, I thought recovering the outdoor throw pillows with a little color would look great against the neutral color of the drop cloth.  I had an old shower curtain from when we redid the upstairs bathroom that was the perfect print and material given it was water resistant.
I put together together some no sew pillow covers using iron adhesive.  They were pretty straight forward if you've ever made a pillow before, except I used iron adhesive.  I cut the fabric with about 3″ on all sides, then I folded over the edges to create a 1″ seam with my iron adhesive.
Next, I used iron adhesive (with a damp cloth for steam) to bind the 2 pieces together (pretty sides in), leaving one end open so I could later slip in my pillow.
Next, I flipped the case inside-out and stuffed it with my pillow.
The 4th side was the most challenging side as I had to seal it with the pillow already inside.  I used safety pins to keep the fabric in place and once again used my iron adhesive to bind the last side.
Here is the final look of the pieces together.
I am beyond happy with the results and the whole project cost me less than $25.
Have you used drop clothes or shower curtains to recover something?  Are you a Singer pro or is no-sew more your style?
This post is  linked up to these link parties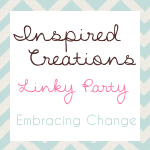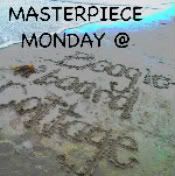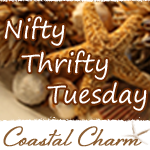 If you haven't already, be sure to enter my giveaway that ends Feb 8th at midnight for one free pillow cover from Soeur à la Soeur.